ENDURANCE
"GRIFF"
Run 800 meters
Run 400 meters backwards
Run 800 meters
Run 400 meters backwards
MOBILITY
7-10 minutes of foam rolling
7-10 minutes of band mobilization
SKILL WORK
Note: If you decide to work on Olympic lifts, please do not go above 70% of 1RM.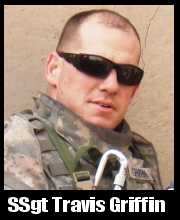 In honor of USAF SSgt Travis L. Griffin, 28, who was killed April 3, 2008 in the Rasheed district of Baghdad by an IED strike to his vehicle.
Travis is survived by his son Elijah.