For the month of September, we will doing Hero W.O.D's every Saturday.
Met Con
Individual or teams of two
"Nate"
20 minute AMRAP of:
2 muscle-ups
4 handstand push-ups
8 kettlebell swings 70/53#
Note: One partner completes a round at a time.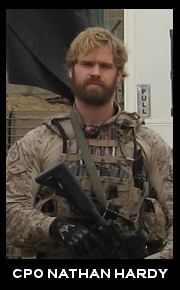 In honor of Chief Petty Officer Nate Hardy, who was killed Sunday February 4th during combat operations in Iraq.
Nate is survived by his wife, Mindi, and his infant son Parker.