STRENGTH
Smolov Jr week 2, day 8
Back squat – 10 sets of 3 reps @ 85% + 5 to 10#
Rest 90 seconds – 2 minutes between sets
Click Here for Smolov Calculator
Note: We will be open at 8am today for day 8 of back squats. We will not be doing strength in the 9am class.
MET CON
Individual or partners
"COLLIN"
6 rounds of:
Carry 50# sandbag or 45# barbell 400 meters
12 push press 115/85#
12 box jumps  24″/20″
12 sumo deadlift high-pull 95/65#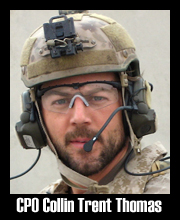 Navy Special Warfare Operator Chief Collin Trent Thomas, 33, of Morehead, KY, assigned to a Navy SEAL team based out of Little Creek, VA, was fatally shot on August 18, 2010, during combat operations in Eastern Afghanistan.
He is survived by his fiancee Sarah Saunders, his parents Clay and Jean Thomas, and his sister Meghan Edwards.