BOX NEWS:
1.) Holiday hours- Friday, 7/3  6PM & 7PM has been canceled.  Saturday 7/4,  8AM Barbell club has been canceled. Special 9AM 4th July WOD.
2.) 30 Day Paleo Challenges starts Saturday, 7/11. More details to come!
3.) Ladies, join us on Sunday, 7/12 at 11:00 AM for a FREE self-defense seminar! Register here: crossfitblackbeard.com/FIGHTBACK
First Friday Hero WOD
"Nate"
20 minute AMRAP of:
2 Muscle-ups (Sub: Seated MU's or Ring pull-downs)
4 Handstand push-ups
8 Kettlebell swing 70/44#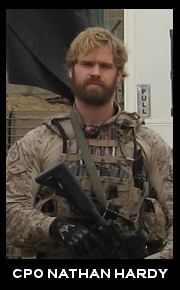 In honor of Chief Petty Officer Nate Hardy, who was killed Sunday February 4th during combat operations in Iraq.
Nate is survived by his wife, Mindi, and his infant son Parker.