Today's 7:00 PM class is cancelled… We will see you at our other class times this evening or tomorrow morning!
First Friday Hero WOD is back!
CONDITIONING
"Klepto"
4 rounds 0f:
27 Box Jumps 24″/20″
20 Burpees
11 Squat Cleans 145/100#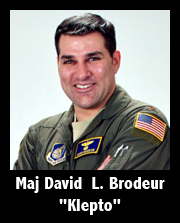 U.S. Air Force Major David "Klepto" L. Brodeur, 34, of Auburn, MA, assigned to the 11th Air Force, based at Joint Base Elmendorf-Richardson, AK, died on April 27, 2011 in Kabul, Afghanistan, of wounds sustained from gunfire from an Afghan military trainee.
                                     He is survived by his wife Susie, daughter Elizabeth, and son David.